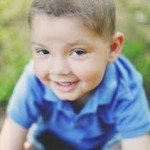 Our pink fire truck was dedicated in May of 2014 after a courageous little boy named Colton. Colton was an amazing boy who had a contagious smile. He was extremely generous and was eager to share, often with total strangers. Colton loved adventures, anything from picnics on the porch to flying an airplane.
In July of 2011, Colton and his family were given the news that he had a form of cancer called Neuroblastoma. Over the next 11 months, Colton would go through chemotherapy, multiple surgeries, a stem cell transplant, and radiation.
On June 3rd, 2012 Colton's scans showed no evidence of disease and he wouldn't need further treatments. Then in the early fall of 2012, Colton began to have leg pain and scans revealed that Colton had relapsed and cancer that had been in his abdomen was now in his bones. Biopsies confirmed the diagnosis and once again he began chemotherapy. With few treatment options available, Colton entered into a clinical trial.
In August of 2013, it was found that although the areas that were treated during the trial were stable, new disease was spreading throughout his body. It was at this point that Colton created a bucket list. In the next month through the generosity of others, Colton was able to do many of the items on his list.
On September 3rd, 2013, Colton was given his angel wings surrounded by family and friends.